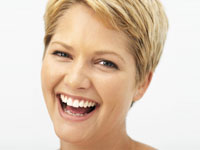 A confident, sparkling new smile can be one of your best assets. If you have missing, damaged, stained or broken teeth, we offer affordable, top-quality porcelain dental veneers, tooth-colored composite fillings, natural-looking porcelain dental crowns and bridges, tooth bonding and tooth whitening.
Ask us about veneers and teeth whitening and how we can maximize your dental insurance.
You'll also be pleased to learn that your dental makeover may not be as expensive or time-consuming as you think. At San Diego Sleep Apnea Centers we're pleased to schedule appointments at a time that's convenient for you and we have a range of affordable payment options available to fit your budget.
Why wait another moment? It's time to invest in the gorgeous, healthy smile of your dreams. Call San Diego Sleep Apnea Centers at (858) 568-8941 now or complete our simple online form to schedule a consultation with San Diego cosmetic dentist Dr. Gary Sigafoos.