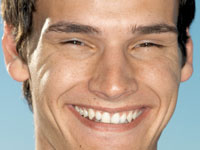 San Diego dental implants provide state-of-the-art solutions for missing teeth from sports injuries, aging or other causes. Just ask us about the popular tooth replacement options available from our friendly, highly-trained team at San Diego Sleep Apnea Centers. We also provide dentures, cosmetic dentistry and wisdom teeth.
A missing tooth can interfere with how you relate to other people as you go about your day-to-day life. Customized dental implants can be a permanent and affordable alternative to bothersome dentures. We deliver high quality implant dentistry results that will make you feel happy and make your smile look gorgeous.
Schedule your San Diego dental implants exam now with Dr. Gary Sigafoos, by contacting our friendly staff at (855) 563-7048. Or complete the convenient form on our website. We want you to feel like smiling every day.
If you're looking for a highly-trained implant dentist in San Diego you've come to the right place. Dr. Sigafoos offers implant dentistry that San Diego residents have come to trust for the highest quality dental care.